Over the last couple weeks I've tried to get a handle on my own personal life and figure things out on my own.
But sadly there is so much commotion happening around me that I am failing to really focus on what needs to be focused on and that's me.
In order to keep my unborn baby healthy I need to focus on getting me healthy.
A lot of people know I had to go cold turkey off my medication, Not sure how many know that 3 of those medication were to help me emotionally.
With out the use of my medication I have struggled to stay happy and sadly have sunk into a depression.
I decided to write a blog post instead of having to respond to the many email/texts/calls I might have gotten.
So know this, as of now I will not be responding to any emails, texts or phone calls.
For how long I am not sure, I just want to really focus on me and not have to worry about pleasing anyone else.
It's nothing that any one person did or said, so please do not think you have anything to do with this.
This is a demon I have struggled with for over 2 decades.
I am tired of having to pretend I am ok, pretending that I am "happy".
I know right now people are thinking I should be the happiest I've been in a long time and my pregnancy is something completely different and yes I am over the moon, But that does not change the fact that for years I have suffered from "Post Tramatic Stress Disorder" and "Severe Depression"
For the last 2 months I have been trying to fool everyone into thinking I am OK and that nothing is wrong.
I pretend to smile and at times pretend to be having fun when on the inside I am breaking like a glass house.
So for now I say good bye and I hope each of you respect my decision to be left alone while I try and work with my doctor and counselor to get back on track.
Living a life in sadness and pretend is extremely destructive. And it's a road I wish to not travel again.
This is something I need to do for me, not for you or you or you….Just ME….and of course my baby.
Again please do not feel this is directed at any of you, this is just something I need to do.
Luv n Hugs,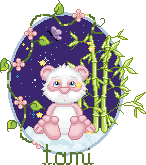 Posted by Tami Croft @ 23 October 2010