You can now find TnT Designs on Facebook!
http://www.facebook.com/#!/pages/TnT-Designs/130052430361353
You'll get more updates on a regular basis.
We'll feature new tube sets, more pixels and specials that will only be found on our fanpage!
PLUS FREEBIES! .. freebies that will only be offered there!
Click the link above and hit LIKE and your instantly given full access to everything we have to offer.
From business to pleasure we've got something for everyone!
Affordable, Professional and FUN! that's what TnT Designs has to offer for you!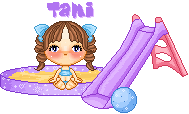 Posted by Tami Croft @ 24 June 2011